A Vibrant, Interfaith Senior Living Community
For more than 50 years, St. Anne's Mead has earned a legacy of providing the highest quality care, with the personal touch, in a warm, welcoming home. We were among the first to open assisted living, nursing care and memory care in our region. Life enrichment programs including cultural, recreational and spiritual activities are at the heart of what we do. As a mission-driven, non-profit 501(c)3 organization, we strive to provide education to our residents, family members and the public-at-large on issues relevant to the health and wellness of senior citizens, as well as ongoing training for our staff.
We are conveniently located within minutes of Beaumont Hospital Royal Oak and Ascension Providence Hospital Southfield and the cities of Birmingham, Berkley, Bloomfield Hills, Clawson, Ferndale, Huntington Woods, Oak Park, Pleasant Ridge, Royal Oak, Southfield and Troy.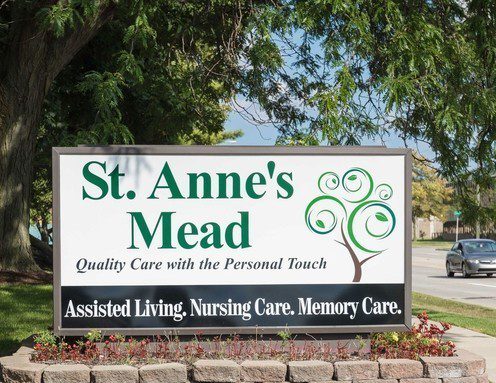 Jane Collins, NHA, Executive Director
Monique Boyd, Director of Housekeeping
Jon Lechner RN, Director of Nursing
Carrie Esper, RD, Registered Dietitian
Peggy K. Goodwin, APR|MADR, Director of Community Engagement, Development & Webmaster
Robin Harris, Director of Admissions
Preston Hill, Director of Dining Services
Michelle Kotwicki, Director of Memory Care Services
Fr. John Lancaster, Pastoral Care
Amanda Murphy, LPN, Director of Assisted Living
Tim Newport, Maintenance Director
Karen Bonar, Accounting
Kristina Schaefer, LBSW, Social Worker
Jennifer Stone, Life Enrichment Coordinator
Cheryl Furtak, President
Terrance Lynch, Vice President
Deric Righter, Treasurer
Rev. Brian Shaffer, Secretary
Sheila Brice
Sandra Curtis
Malcolm P. Cutchin
Rose Fenster
Bishop Wendell N. Gibbs, Jr.
Dan Hamburg
Tom Lloyd
Karen Piper
Marc S. Robinson
Ed Toth
Fred Capaldi, Past President
Richard Astrein
Sue Nine
Peggy K. Goodwin
Jane Collins
Robbin Harris
Donna Hartwig
Tom Lloyd
John Lynch