Each month, we highlight a special caregiver.
Caregivers are nurses, resident assistants, lay people, housekeepers, doctors, hospitality staff and pets.  We hope you enjoy our special feature.  These individuals (and animals) deserve the spotlight!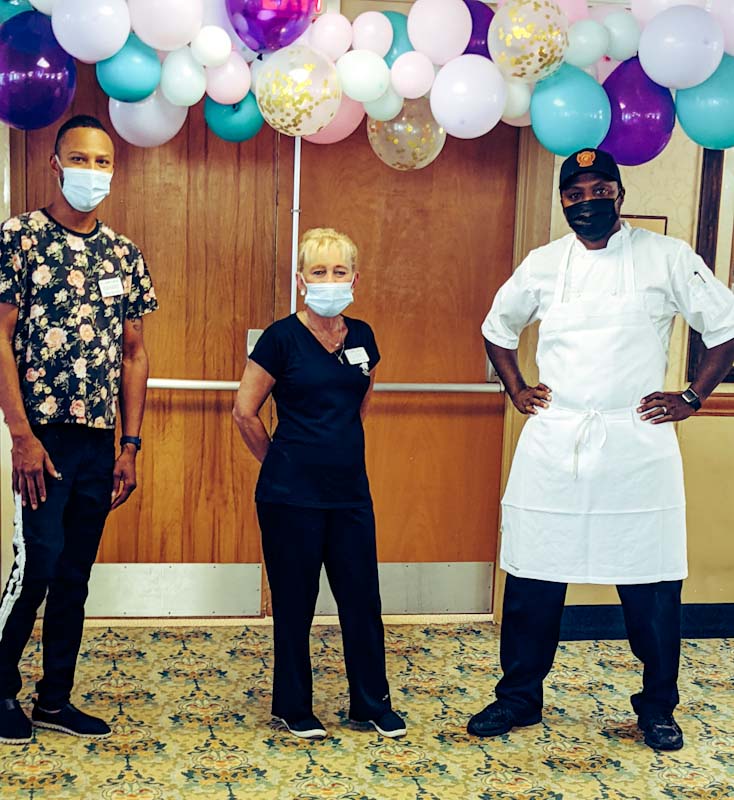 CELEBRATING OUR HOSPITALITY DREAM TEAM
"I cannot say enough about the work ethic of Lisa and Kahary."

~ Preston Hill, General Manager & Executive Chef
Meet Members of our Hospitality Dream Team:  Lisa Bitterburg and Kahary Isom
To kick-off our beautiful Autumn season, we are highlighting two exceptional team members in hospitality and dining services. "Kahary Isom and Lisa Bitterburg bring extensive experience to the kitchen and the dining room. They take great care of our residents, help prep food, clean the kitchen, whatever needs to be done, they will do without question. I cannot say enough about their work ethic," said Preston Hill, General Manager of Dining Services.
Both Kahary and Lisa are long-term employees of St. Anne's Mead, with Kahary celebrating three years and Lisa celebrating eight years of service. Lisa has an extensive background in catering and says she found her calling taking care of seniors. "I was blessed to have two mothers, one is still with me, and I cherish taking care of her. At St. Anne's Mead, it is so much more than serving food. I feel like my work is very purposeful, I am taking care of my residents, who are like my family," said Lisa. While Lisa has one adult child, grand children and great grand children, Kahary is just beginning his parenting journey.
Kahary is in the process of adopting his younger brother, Joshua, age 7, an undertaking that takes great faith and perseverance. As the Praise and Worship Leader of his Church, Kahary is giving his adopted son a strong foundation in the church and in school. "He's the light of my life and I will do anything for him. He's doing great in school and I make sure to spend quality time with him everyday," he said.
Once Kahary was left a $300 tip on an $180 bill at the restaurant he previously worked at, "He exudes good," said resident Jim (see photo below). "When you experience Kahary's positive energy, you will understand why this happened," said Lisa. "I love our team in dining services," said Kahary, "we all work well together and do the best by our residents. Lisa is a great person to work with. She and I are a powerful duo."
Since 1966, St. Anne's Mead has been a leader in senior living, beginning with assisted living and extended care, followed by a state-of-the-art memory care home opening in 2018.
As a mission-based, non-profit organization, St. Anne's Mead strives to provide the highest quality care in a vibrant, interfaith community.
Please consider a gift to the Angel Fund to support our residents in need!